The world of fast food restaurants is always in a buzz and the dynamics are always changing. Moving away from the usual subjective rankings based on popularity, here are some of the top names in the sector ranked according to multiple parameters such as size, financial stability, growth over the past couple of years. Also factored in were the investment required for opening a franchise, and how long the brand has been in existence.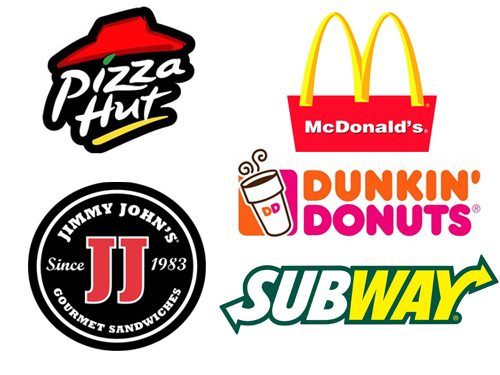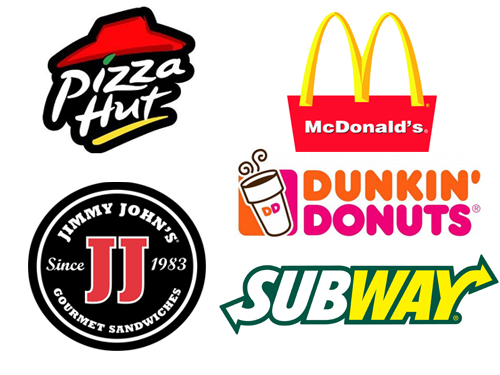 1. Pizza Hut
A subsidiary of Yum! Brands, Inc., among the largest global restaurant companies, Pizza Hut is known worldwide for its Italian-American cuisine, most famously pizza and pasta as well as an assortment of side dishes and desserts. The brand is present in over 15,000 locations all over the world in multiple formats; dine-in locations for the family, store front delivery, carry outs as well as hybrids that offer all the options. Starting up a franchise can take $297,000 to $2.1 million.
2. Dunkin' Donuts
Dunkin' Donuts is a global restaurant chain famous for its offerings of donuts and coffee. Founded in 1950 in Quincy, Massachusetts, it has grown meteorically to have a presence in over 36 countries with more than 11,460 restaurants to be counted as among the top baked goods and coffee chains globally. The menu features a variety of donuts as well as bagels and other baked foodstuffs such as muffins, cookies, donut holes besides a wide selection of hot and iced beverages; tea, coffee, hot chocolate, iced tea, and the very popular "Coolatta", a flavored iced drink. Due to customer insistence, the company has embarked upon a plan to reduce trans-fats from the items on the menu by switching to healthier oil options. It can take $217,000 to $1.6 million to start a Dunkin' Donuts franchise.
3. McDonald's
With 36,538 restaurants in 119 countries serving 68 million customers daily, McDonald's is the largest chain of burger restaurants in the world. Founded in 1940 in the United States, it had a humble beginning as a barbecue restaurant, which however was reorganized as a hamburger stand on the principles of production line some eight years later. A franchise agent, Ray Croc purchased the business from Richard and Maurice McDonald and drove its growth worldwide. On the menu are bestsellers like hamburgers, fried chicken, cheeseburgers, French fries, soft drinks, desserts, and breakfast items and the much-loved McDonald's party pack. The company is famous for its attention to standardization to the minutest detail and is also adapting itself to customer demands for healthier food options and other local preferences. It can take anywhere between $989,000 and $2.2 million to take up a McDonald's franchise.
4. Subway
Subway that primarily sells submarine sandwiches and salads is among the world's fastest growing fast food chains. Owned by Doctor's Associates Inc. it is present in 111 countries with 44,692 restaurants, out of which, 27,058 are in the United States alone. It is also the largest operator of restaurants in the world as well as the biggest single-brand restaurant chain. The biggest fast food advertiser after McDonald's in the USA, Subway has been using "Eat Fresh" as its advertising slogan since long focusing on how they offer customers the freshest baked bread and ingredients in the form of a submarine sandwich assembled to customer specifications by "Subway Sandwich Artists" as their employees are called. To take up a franchise it takes $116,000 – $263,000.
5. Jimmy John's 
Jimmy John's is a restaurant chain specializing in sandwiches and operating on a franchise business model focused on deliveries. The chain was established in 1983 and over the last three decades has set up shop in over 2,200 locations across 46 states in North America. Over the last three years, it has opened around 200 stores per year, 98% of which are franchise-owned. It takes about $323,000 – $544,000 to take up a franchise. Jimmy John's sandwiches are made from fresh produce every day by hand at every location. All day baking is a USP of the chain and it ensures that the bread used is never more than four hours old.
Author Bio: Sujain Thomas is presently working as a financial consultant and has worked with a number of firms and charity initiatives for debt relief in the past. She is also into blogging and writes debt settlement reviews.