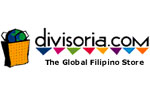 Ramon "Monching" Romano, the owner of Divisoria.Com didn't deny the fact that his motive on setting up his business was primarily for profit. It's only natural that the reason for setting up a business is to earn, otherwise we will just set up a charity or a non-profit organization.He has a background as a marketeer and experience as brand manager and sales and marketing manager in different companies which I think have helped him on establishing his business. Truly, his online store is helping Filipinos and OFW in other countries who wish to buy Philippine products which are not available on their location.
Divisoria.Com is one of the many online stores in the internet which the process of buying is through online transactions and using your credit card to purchase items. Then after you completed the process and payment, the items will be shipped to you where ever you are. But unlike other online stores, Divisoria.Com is created for Filipinos abroad especially to those who miss Philippine products. Most of it's customers are those who wanted to buy products for themselves or for their love ones here in the Philippines. Aside from Filipinos, there are Foreigners who patronize Pinoy products in the online store.
The online store started with a mission on selling Filipino books but decided to sell audio CD, VCD and DVD because it's easy to sell. It's not that easy setting up Divisoria.Com. Monching was the only one who strive to establish his business. And aside from this, there are no facilities in this country to help him start his online business back in year 2000. So he has to set it up in the U.S. He asks companies in the U.S. who have this kind of business including banks. Even if he have has already set up an online store in the past, still his knowledge is insufficient on the technical aspects on setting up an online store. So he sought help from his acquaintance who are knowledgeable on setting up this kind of business.
There are other challenging stuffs he has settled like those who wanted to invest on his online store and tie ups on his suppliers because back then online selling was still not very well known. He has to convince his suppliers without having a physical store. And he has to deal with the cost of advertising (obviously internet advertising), the geo-targeting of his prospects because Filipinos are scattered abroad and security of credit card purchase. So far he managed to overcome them.
And with regards to service, Monching boasts that he ensure that he has a "personal touch" on dealing with customers. Even if he has staffs, he himself is the one who communicates with his customers. I guess this is one of the success secrets, having a personal approach. He even say that when announcing a new product by email blast, he do it casually, just like talking to a friend. There are even some special request like items a customer wants to buy not listed on his website which he accepts. He even replace lost items in shipment. This kind of taking care of customer – The Commitment to Service – is the reason why he is still in business and continually builds customer loyalty.
Source: Masigasig Magazine