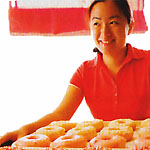 It all started because of her absolute love for eating, says a 23 year-old Cello Santos. A newly grad from college, when most of her friends and classmates from her BS Management Engineering class opted to take on the corporate ladder, Cello decided to carve out her own path, opening her very first branch of Cello's Doughnuts & Dips in July 2004. The idea started when her boyfriend Jutes Templo, brought her doughnuts one day. Having lived and studied in the Katipunan area all her life, She realized that one had to go a long way to satisfy a doughnut craving-so why not open an alternative doughnut shop along Katipunan itself? And while her college education did prepare her in some way for starting her own business, Cello had to learn first hand what it really takes to set up and sustain a successful business of her own. With a loan and encouragement from her family, and support from her boyfriend, Cello began building her doughnut shop from the ground up.
With her limited budget, she hired an architect for her store and designed the interiors herself, with participation from Jutes and her family she developed the recipes for her doughnuts as well and decided not to use any coloring or preservatives, so the colors are pale compared to commercially made doughnuts. Then Cello consulted her friends for suggestions for flavors. Isn't there a Chocnut lce cream? [Why not! make a Chocnut doughnut's she says Though she personally doesn't like peanut butter, Jutes convinced her to add the flavor to the lineup, which proved a wise move. The bestseller, surprisingly though, is the cheese topped doughnut.
Just one bite into one of her white, soft and fluffy creations and It's not so hard to imagine how Cello's doughnuts are already winning comparisons over doughnut industry giants such as Krispy Kreme and Go Nuts Donuts with a wide range of flavors that include M&Ms, strawberry, chocolate, Oreo peanut butter, cheese, and even the locally inspired, Chocnut, Cello's doughnuts are a hit among students and families.
What sets Cello apart from her bigger competitors are her two other doughnut lines-the C's and Dips and the Pillows and Dips. The C's are basically C-shaped doughnuts with a light glaze that are then dipped into a variety of dips such as melted dark Belgian chocolate, Nutella, Toblerone white chocolate, strawberry, and Dulce de Leche. The pillows go with the same dip, but are bite-sized squares that are as soft and as comforting as their namesakes.
They are usually the first to be sold out, they're that good. Also, their unique shape and concept make them stand out against that usual field of round goodies with a hole in the middle. Cello admits that this path she had chosen is a lot harder than just being employed. Her business occupies her mind 24/7, but she wouldn't trade it for the world. After all, as she pointed out, success comes when you believe in the product you are selling, and her biggest fulfillment comes from seeing the Joy on people's faces as they sink their teeth into her doughnuts.
Aside from the joy her doughnuts generate, one supposes that Cello must also get satisfaction from her fast-paced expansion. From one store located by her alma mater, Ateneo de Manila University, she has already opened a branch on Taft Avenue right in front of De La Salle University, and another in Greenhills. But however big and successful Cello's doughnuts & Dips is fast becoming, It has still remained a family business. Her mom runs the shop when there are too many people for shy Cello to handle, her dad closes up at the end of a long and productive day, her older sister offers her advice when asked, and her boyfriend, whose photos adorn the walls of the original shop, was her investor for the Taft branch.
While it may take a brave person to start a business sans experience, to aspiring entrepreneurs, Cello gives this advice, "If you find something that you will earn from and enjoy doing, take the opportunity!"
Source: Globe Masigasig Magazine (by Tala Amianin and Sheila Marie Juan )