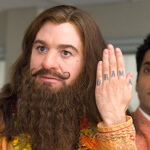 When I saw the movie Love Guru, the idea came up to me the similarity between a blogger and a guru. Why The Love Guru? if you have a chance to watch it, it's a comedy movie and the actor who portrayed role of Guru Pitka was Mike Myers. There are many funny scenes although most of it are kinda corny. One of those scenes is when Guru Pitka was conducting a sort of seminar. He differentiate the word "NOWHERE" to "NOW" "HERE" and the attendees were amazed on that moment. Kinda funny because I never thought there was a big difference between the two words. Then he explains and interpret an abbreviation of the word BIBLE, which is Basic Instruction Before Leaving Earth. Also there is a book I saw that looks like authored by him with the title "Does It Hurt When You Do That? Don't Do That". Also, on that movie Guru Pitka was trying to fix a broken marriage but he himself haven't experienced marriage (or maybe sex?) because he was wearing a chastity belt.
Then how is Guru Pitka similar to a blogger? most of the blogger which hoards a lot of visitors and subscribers are those guru type that writes "how to's" or the "ten things a blogger should avoid" posts. But come to think of it, why should I believe a write up from a blogger even if he or she is famous? Do I have a mental telephathy that I will know that the blogger is telling the truth? or do I have a time machine that I will know the result when I follow his instructions and I'll be as successful as he claims to be? So why sometimes when we read a post we immediately gave our trust and assume that we will become successful? Simple. Because those bloggers writes good, if not, excellent thought provoking posts. It's as simple as that. We don't have an idea if it's true or effective, doesn't it?
These are only observation which I think are based on facts that the core of being a successful blogger is being a good writer that can capture the imagination of readers.