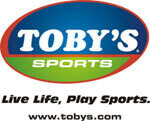 Who wouldn't recognize the leading sporting accessories and apparel store chains in the Philippines? Many years back, I remember it has a small store in Greenhills Shopping Center back in 1982. That time I was only 13 years old and little that I know the real story behind it. I'm not a sports buff so it's impossible to think that I will visit Toby's but what attracted me to that store are those  radio controlled airplanes and accessories that time. I remember those days when I begged my uncle to buy me a propeller driven F-16 fighter jet kit made from balsa wood which I assembled myself. And my only way of learning how to build and cover it by monokote it is by reading R/C model airplane magazines and books. Sad to say, I never had a chance to fly it because I was afraid I might crashed it. I was only a beginner in that hobby those days. I remember I also bought model engines for that plane, monokote and a 4 channel radio control set. Later I learned that I need to fly a model trainer aircraft before flying a faster airplane like that F-16. So I bought a J-3 Cub model plane kit from Toby's but again I can't fly it because it was a scale model airplane. Scale model airplanes are for expert flyers and not for a beginner. In the end those two planes I build just became an expensive litter. After that I bought a third trainer model aircraft from an expert rc pilot trainer who also taught me how to fly, I attempted to fly it on my own and crashed.
So much for that story. Maybe I shouldn't have written that experience because Toby's Sports only specialize on sports gears and apparel and have not continued to sell model planes and accessories. But at least many people will know that aside from the Mickey Mouse and other Disney merchandise Toby's Sports were selling on it's early days, they have also tried to sell R/C airplanes. There was a good article I read in Masigasig Magazine about Mr. Roberto 'Bobby" Claudio, the founder of Toby's retail chain. Although the article seems like a promotion of Globe telecom for endorsing the IOS (Inventory Ordering System), at least it was an inspiring one. The success story begins when Mr. Roberto Claudio was still an employee of Unilever and was very active in Junior Jaycees and was asked to take charge of World Jaycees Congress on his fifth year. Then later he resigned and devoted his time in the Jaycees.
He used his saving to invest in a unit in Virra Mall Greenhills for the purpose of reselling it again after construction. But his plan didn't push through because he was unable to sell the unit. So he decided to do something with the space by setting up his own store called Toby's Forms and Shape. It was named after his son Toby and the "Forms and Shape" means that the store could take any form and shape. When he began selling Mickey Mouse and other Disney merchandise, his business started to gain momentum. Then after that he started selling skateboards in 1982. Maybe that was the time I saw those model airplanes along with the skateboards on Toby's on it's early days. So the rest is history and you can read the details in Masigasig Magazine with his picture on the cover page and it was a January/February 2009 issue.
I just wanted to cite some business tips I got from that issue. One of them is what will you do to make your child interested in you business? This is what he said "If you want your children to become interested in the family business, give them tasks that they will enjoy".
Another one is Sailing Through an Economic Storm from a retail veteran himself:
Know When to Contain Your Cost. He advises that business owners should be efficient with the use of manpower and get more productivity from each employee. Don't scrimp to the point that you have to sacrifice the cost that are neccessary.
Be Optomistic and Don't Stop Growing. Sometimes the best opportunities to invest in future growth come when the economy is crashing. "Like Warren Buffet said, be greedy when everyone is panicking: panic when everyone is greedy." says Bobby. In other words don't let opportunities slip away. Â "Just take things in smaller bites."
The Good and Bad Times Come in Cycles. "We notice that every five years, our business experiences a downturn" says Bobby. "Crawl, don't walk; walk, don't run," is Bobby's motto when steering his business in difficult times.