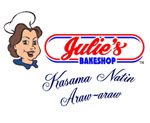 I guess every Filipino knows this bakeshop. Now it has become a common bakeshop with more than 500 stores serving every Filipinos. The owner, Julie Gandionco and her sons as far as I remember was already featured on some TV shows. But little that we know how it started from a humble beginning.
The Julie's Bakeshop story is the kind that hits close to home, particularly because it was born out of the needs of a family which something most people can relate to. When she reached the age of 47, Julie Gandioco's duties as a mother were becoming less and less demanding. Her children – Bobby, Rico and Opep were already in college, and the rest Oding, Neil and Patty were in high school. Her kid's educational expenses were going up and her husband's sugar farm was not doing well. So she thought that there were something that she must do to help her husband.
The Opportunity Knocks
When she saw a job posting as a canteen concessionaire at PHILDACAN, a rattan factory, she applied and got the contract. Since lady luck has already knocking on her doors, it became a hit after one year and she was offered to run another on PHILDACAN's sister company, Admacor and a year after at the La Union Carbide factory. The three factories were in the vicinity of Mandaue and the employees being fed daily by her canteen totaled 1,780 which is a big task for a neophyte. But despite of this she have the courage to face such a big task. As a true entrepreneur, she never refuse a challenge and she replicates success. She said so herself that "If you can manage one business efficiently, there is no reason why you can't with two or three. All you have to do is duplicate what you are doing. This just need good organization hard work and a lot of prayers."
The Birth of Julie's Bakeshop
Julie noticed that her customers consumes a lot of bread which she bought from different bakeshops at that time. One of her bread supplier, Vicente Ruiz encourage her to put up her own bakeshop so she could supply her own needs. She realized that it was a good opportunity because the market was already there but she was hesitant at first because she have no experience in baking or bakeshop business.
Eventually she took Vicente's advice on the condition that he joins her business and take care of all the baking while she took care of the rest. One of the keys for a successful business is hiring an expert which attributed to her success. By hiring an expert to help start her bakery business, she didn't have to worry about the product. Again I would say that she was lucky enough that she have an expert on her side because if she hired an amateur, then that would hinder her success.
Julie put up her savings which amounts to Php19,000 to open up the family's first bakeshop on January 6, 1981 in Wireless, Mandaue. She served staples like Elorde, Everlasting, Pan de Coco and Pandesal. Then she opened up another bakeshop in Aznar road near Southwestern University just six months after she opened up the first and she recovered her investment only in one year.
Based on the short success story, it is obvious that age doesn't matter if we were given a break by our Almighty Creator. Just let us keep ourselves hoping and trusting in Him that someday we will have our break.
Source: Masigasig Magazine
Julie's Bakeshop Website: www.juliesbakeshop.com.ph